Slovenia is a small country with lots of hidden gems. You can find here various types of landscapes, authentic culture, delicious food and breathtaking views. Here are 10 reasons why Slovenia is worth a visit! 🙂 Have a look!
1) Diverse and beautiful landscape
One hour to the left – sun and sea, one hour to the right – mountains and snow 🙂 Choose your side!
(c) slovenia.info
2) Mysterious caves
In the underground of the country, thousands of caves are located, of which 22 are open to the public.
3) Delicious honey 
Slovenia has over 8000 beekeepers and the honey is considered to be of great quality.
4) Special wine
About 1% of the land is covered by vineyards and Slovenian wines are definitely worth tasting. Slovenia is also home to the oldest vine in the world, it has been producing grapes since the sixteenth century.
5) The dragons
This fire-breathing mythical creature is the emblem of the country and a range of dragon sculptures are dotted around.
(c) Eric Anderson
6) Ljubljana
The capital's historic city squares are pleasant collections of Baroque façades and medieval interiors.
(c) oynemea.com
7) Lakes Bohinj and Bled
Absolutely breath-taking sceneries and you can even row a boat on the most beautiful lakes you've ever seen. 🙂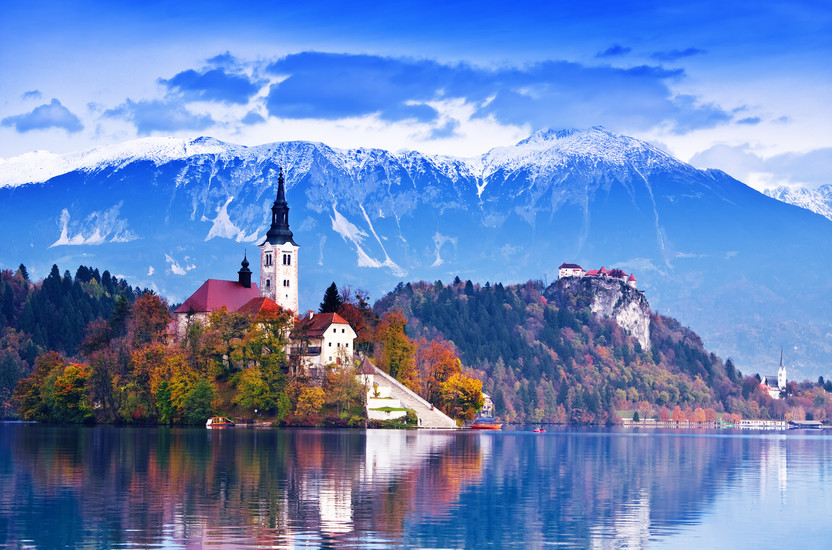 (c) inyourpocket.com
8) Fascinating location
Have you ever seen two other countries from one coast? if you stand on the coast in Slovenia, you can look to your right and see Italy and to your left and see Croatia. 🙂
(c) hannatravels.com
9) Adventures on the Soča river
Water sports enthusiasts can raft or kayak on the crystal clear river Soča. For a little less courageous guests, Slovenia offers several adrenaline parks.
(с) udivitelno.com
10) Breath-taking castles
Slovenia is full of castles and fortresses. The number is over 100 🙂 Choose the one you like the most and drown yourself in medieval spirit!
Sources: slovenia.info, huffingtonpost.com, intrepidtravel.com