Exfoliation is very important to keep your skin clean, smooth, and smelling great. Actually, body scrubs are very easy and fun to make at home. To provide some inspiration, here are some chemical-free and homemade body scrub recipes which you can try 🙂 Have a look!
1) Vanilla and Cinnamon Body Scrub
Cinnamon has amazing skin plumping qualities, which can smooth wrinkles. Vanilla is rich in B-vitamins and antioxidants, which can fight free radicals and prevent wrinkles.
Ingredients:
1 cup raw brown sugar
¼ cup almond oil
½ tsp vanilla extract
3 drops cinnamon essential oil
(c) helloglow.co
2) Banana Sugar Body Scrub by Jamie Lynne
 The banana contains Vitamin C and B6 and a large amount of antioxidants and manganese. Moreover, the sugar helps remove old skin cells, the coconut oil and butter work as moisturizers and are antimicrobial,  the Shea butter provides vitamin A, and the apricot kernel oil also provides vitamin A as well as vitamin E and C.
Ingredients:
1/4 cup Shea butter
1/4 cup coconut butter
1 ripe banana
1/4 cup coconut oil
1/4 apricot kernel oil
1 cup of sugar
(c) skincare.allwomenstalk.com
3) Grapefruit-Avocado Oil Sugar Scrub by Misty Spinney
Grapefruit brings its free-radical fighting powers to this scrub that helps equalize the skin tone.
Ingredients:
1 cup sugar
1/2 grapefruit, squeezed
3 tablespoons avocado oil
(c) saltycanary.com
4)  Lavender-Grapeseed Oil Sea Salt Scrub by Misty Spinney
Dried lavender exfoliates as it soothes the senses in this acne-fighting scrub. Sub sea salt for sugar to scrub away dead skin and other impurities. Lavender and sea salt are also perfect for eczema.
Ingredients:
1 cup sea salt
2-3 sprigs dried lavender
2-6 drops lavender essential oil
1 cup grapeseed oil
(c) vkool.com
5) Oatmeal and Coconut Oil Body Scrub
Oatmeal is great for sensitive skin. Besides that, the coconut oil is a great moisturizer and can help repair damaged skin.
Ingredients:
½ cup oatmeal
½ cup raw brown sugar
1 cup coconut oil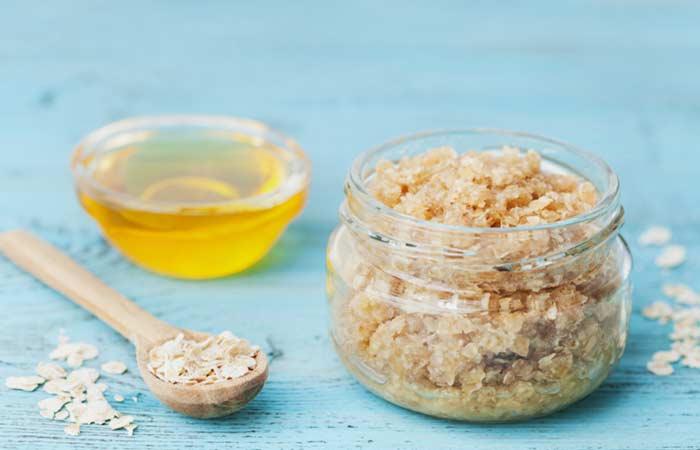 (c) stylecraze.com
Source:  nivea, brit.co, iamnotthebabysitter
Photo on preview: helloglow.co